The Orthodox Union (OU) is deeply invested in promoting and enabling the Jewish community to flourish and thrive. This aspiration is challenging in an era characterized by radical disruption, pervasive and challenging social influences, and a complexity that demands continuous learning. As former OU Executive Vice President Allen Fagin explained, it is no longer acceptable to engage in "management by anecdote." High-quality data has become vital to supporting decision-making, including the allocation of precious and finite communal resources.
The Center for Communal Research was founded in 2018, with the vision of providing the due diligence required to fulfill the OU's obligation to the Jewish community by bringing together professionals with world class social scientific research expertise as well as deep personal investment in the Jewish community.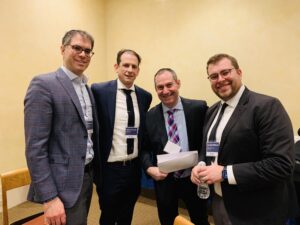 Matt Williams was appointed by the OU as the founding director of the OU Center for Communal Research. A sophisticated qualitative researcher and educator, Matt is sought after for his tremendous sensitivity to a wide range of people and phenomena. He has been involved in numerous influential and widely-cited studies and has served as a formal and informal advisor to many research centers around the world, including the University of Pennsylvania's Katz Center for Advanced Judaic Studies and the Girl Scout Research Institute.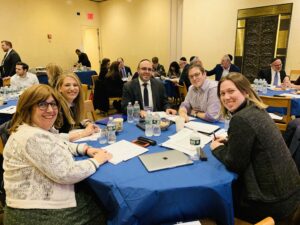 Matt brought Michelle Shain to the Center as assistant director in 2019. Michelle is one of the most respected social scientists studying the Jewish community today, combining expertise in policy research, program evaluation, and quantitative methods with deep knowledge of American Jewish life. As a key analyst on the ground-breaking program of research on the impact of Birthright Israel, as well as an advisor on major surveys of U.S. Jews conducted by UJA-Federation of New York and the Pew Research Center, she is a driving force for raising of the bar with respect to data informing policy.
Although many academic institutions and NGOs specializing in research already exist, the OU invested substantial resources in founding an in-house department dedicated to research for the Orthodox Jewish community and evaluation of the many programs that the OU runs. Embeddedness is vital for deeper understanding and insightful research. Although objectivity may be elusive for scholars conducting research in their community, outsiders grapple with nuances and subtleties of which they may not even be aware. The potential gains of lifelong communal participation and investment are many, and academic training provides sensitivity to personal biases and supports the development of strategies for their mitigation.
Communal research is a deep, sustained and critical gaze at the present, to gain insight into the ramifications in the short and mid-term future. The Center for Communal Research is committed to data-gathering that makes sense of the present day, as well as supporting communal leaders in adding data literacy to the tool belt of vital leadership skills. Together, we are identifying the kinds of policies that tweak the present for a wiser, more compassionate, ambitious and courageous future.