Spring 2023
This mixed-methods study, which included a comprehensive survey of single Orthodox men and women, as well as qualitative interviews with single adults, matchmakers, and community leaders, attempted to answer the most pressing questions about being a single, Orthodox adult in the United States today. What are the experiences of single men and women actively dating throughout the Orthodox Jewish community in the United States? What are they seeking in a spouse? How do they date? How do they feel? What do they want from the Orthodox community?
Read the report on the Challenges of Singlehood: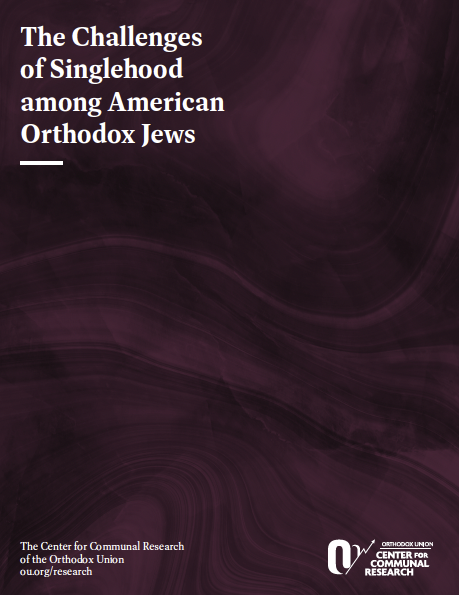 Read the study methodology: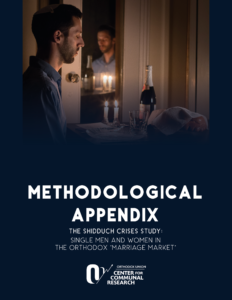 At a gathering called "Every Single Jew," held in Baltimore on May 15, 2022, CCR shared some of the study's findings with a group of community leaders, shadchanim (matchmakers), and single men and women. Channah Cohen, former Applied Researcher at the Center for Communal Research and Program Manager with the OU's Community Projects & Partnerships, presented findings related to what we called the "crisis of experience"—the way single men and women feel and are treated in the community. Highlights of her presentation included:
One third of single Orthodox men and 45% of single Orthodox women felt blamed by the community for being single.
Although they identified other, more serious problems within the Orthodox community—including religious people behaving unethically, the cost of observant Jewish life, and antisemitism—80% of single men and women regard the treatment of unmarried people as a problem.
Even though most single men and women felt that people at shul are friendly, 30% of men and 55% of women said they are not invited for Shabbat meals.
"In the struggle of shidduchim, there's maybe 10%, that's the lonely experience of looking for a spouse," explains a 27-year-old single woman. "But 90% of the rest of it, is the pain of feeling ostracized from the community."
Participants worked together to brainstorm positive communal responses to the challenges identified by the study.